After 8 years of Hollywood development hell, "Bohemian Rhapsody", a biopic based on the life of Freddie Mercury and his band Queen, is finally moving forward – with "Mr. Robot" hottie Rami Malek set to play Freddie.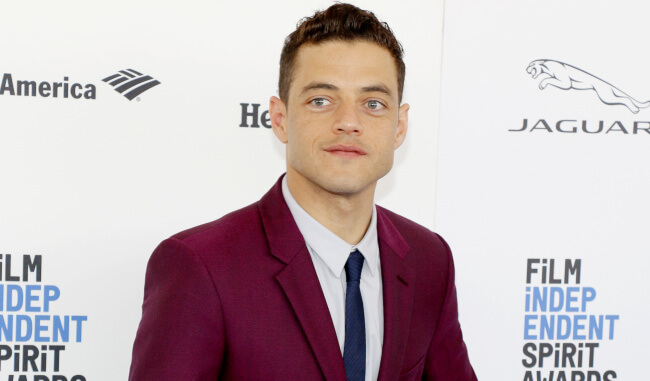 Bryan Singer (of X-Men fame, among others) broke the news on his Instagram account:
https://www.instagram.com/p/BMZ6QbxDpcS/?taken-by=bryanjaysinger
The movie's been floating around Hollywood for 8 years, with surviving members of the band, Brian May and Roger Taylor, aboard as "musical producers". The latest draft of the script was penned by "The Theory of Everything" screenwriter Anthony McCarten. 
This isn't Rami Malek's first on-screen gay character – Back in 2005, he had a recurring role in the critically acclaimed comedy series "The War At Home", where he played the neighbor's gay kid, Kenny.
Recently, Malek won the best actor Emmy for his role on "Mr. Robot".
At an earlier stage, Sacha Baron Cohen was cast to play Freddie – but disagreements over the direction of the film, caused him to walk away. (Speaking on Howard Stern's show, Baron Cohen claimed that Freddie dies in the MIDDLE of the movie – which would, according to him, make for a very boring film).
Freddie Mercury was the lead vocalist of Queen, which was formed in 1970. Rumors surrounding Freddie's sexual orientation were always afloat, though at an earlier point he had a girlfriend, Mary Austin, but later lived with his partner, Jim Hutton.
On November 1991, Freddie publicly announced that he had AIDS:
Following the enormous conjecture in the press over the last two weeks, I wish to confirm that I have been tested HIV positive and have AIDS.

I felt it correct to keep this information private to date to protect the privacy of those around me. However, the time has come now for my friends and fans around the world to know the truth and I hope that everyone will join with me, my doctors and all those worldwide in the fight against this terrible disease.

My privacy has always been very special to me and I am famous for my lack of interviews. Please understand this policy will continue.
24 hours later, Freddie died at the age of 45.