The details of gay YouTuber Calum McSwiggan's alleged attack are still unclear. According to the L.A. County Sheriff's department, there's no evidence of an assault, but Calum and his friends are insisting that it happened – but they're unable to speak due to legal concerns.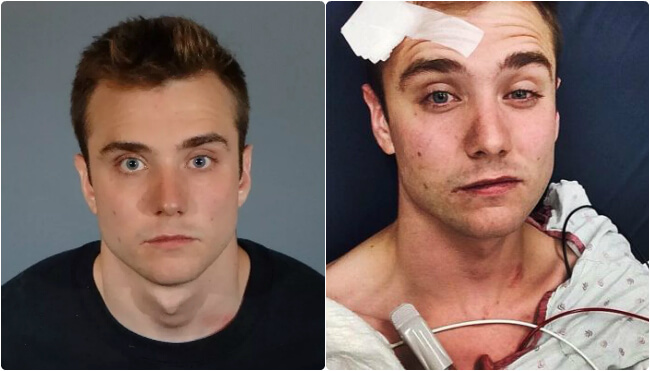 Yesterday, Calum posted a photo of himself in the hospital, saying that he was beaten by three men, in an alleged "targeted" attack, while visiting a bar in L.A. after attending VidCon. In his post, Calum blamed the police for making him feel like "a second class citizen".
Hours later, the L.A. County Sheriff's office released a very different account of the events:
The Los Angeles County Sheriff's Department has an affirmative duty to fully investigate all assaults and reports of violence in our community.

Deputies from West Hollywood Station responded to and investigated the report by Calum McSwiggan that he was assaulted by three males after leaving a local nightclub early Monday morning.  Responding deputies were unable to substantiate the assault.

Mr. McSwiggan, who had no visible injuries, was subsequently arrested after deputies observed him vandalizing a car in the 8900 block of Santa Monica Boulevard.

After being booked and photographed, Mr. McSwiggan was placed into a cell by himself at West Hollywood Station.

Mr. McSwiggan was then observed injuring himself with the handle and receiver to a payphone inside the cell.  Medical personnel were summoned and Mr. McSwiggan was transported to a local hospital for treatment.

Mr. McSwiggan's booking photo was taken prior to deputies seeing Mr. McSwiggan injuring himself.  That booking photo is attached.
Following this statement, Calum took to Twitter to say he can't say much until his court appearance:
I've been told to say nothing before court tomorrow but staying silent here is killing us. If you're a friend just DM me for the truth.

— Calum McSwiggan (@CalumMcSwiggan) June 29, 2016
His friend and fellow YouTuber, Riyadh Khalaf, who came to Calum's aid after the incident, wrote similar things on Twitter:
https://twitter.com/RiyadhK/status/747951214793371652
Hopefully, we'll know more details in the following days.