Being outed to your parents when you're not ready is never easy. But when it happens with them catching you getting spit roasted by two men in the pool… that's a whole nother level of not easy.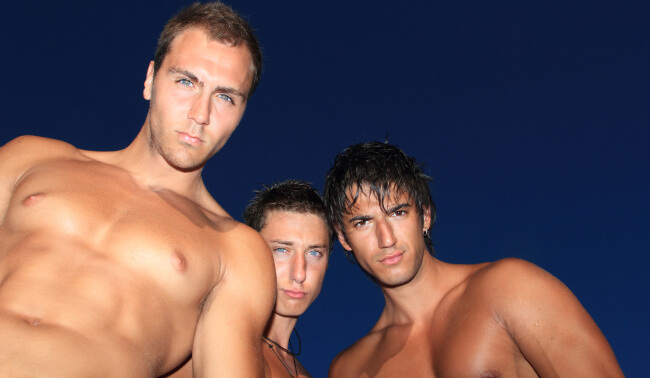 That's what happened to this guy on Reddit, who was very much in the closet to his parents.
"I'm in college and at the start of the year I broke up with my girlfriend", he writes. "I know it's cliché and all that, but I'm straight acting, kinda bro looking, but I just couldn't fake it anymore.
"We broke up in January and I've been exploring my sexuality since. It's been amazing, and I've kinda dived right in, but I still present as straight and haven't come out to anyone."
So far so good (at least for someone in the closet) – but then… things got crazy.
"I started secretly dating this guy a few months ago. He knew I was low key about being gay and has been amazing about it all. We got physical pretty fast and every once in a while, late at night or if the mood struck, his roommate would also join in on the fun.

So, kick off summer classes. My boyfriend said I could crash with him for the summer because their lease ends beginning of August. This summer has been filled with sex and I'm just happy to be myself and have fun.

My parents go on this summer road trip to see national parks every year in their camper. They were supposed to swing by tonight. I don't know if they skipped something or went 100 mph over the past two days, but they showed up at our place this morning, a full 12 hours earlier than expected.

I'm literally just nauseous typing this. They tried calling me this morning but my phone was upstairs charging. My boyfriend, roommate and I were tanning on our back patio and doing some morning drinking.

Things happened and soon we're having some fun together in the sun. It gets a bit more intense and since we have music going and are a little drunk we don't hear my parents enter and make their way to the where the music is coming from.

I'm being fucking spit roasted when they see me. I don't immediately register that they're there but my boyfriend does, yells "what the fuck," and I turn to see my dad and mom basically running out of the house.

They saw everything, they left, they won't return my calls, and I'm fucking devastated. I've been my dad's "man" for my whole life and he just saw me taking dick. I just went from responsible son to gay in a split second and I'm just so broken. I feel like I let them down."