Aleksander Melgalvis Andreassean, a soccer (or football, depending on where you live) player from Norway was real happy his team just won the Norwegian Cup. So happy, that he stripped naked on stage, and pushed his penis into the trophy. Because why not?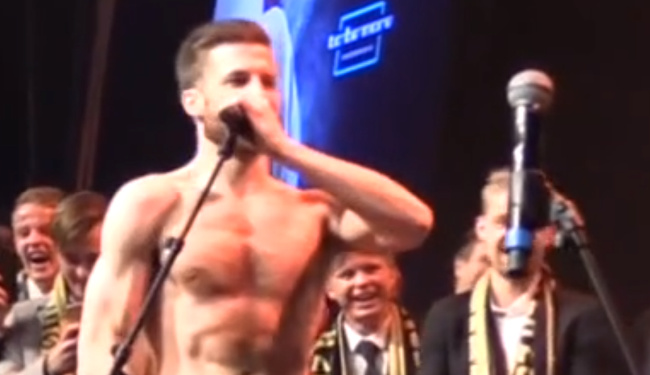 28-year-old Aleksander, who plays as a defender on the team, helped his team Lillestrøm beat Sarpsborg 08 3-2, for their first win in 10 years, as The Telegraph reports.
When the team and its managers gathered on stage to celebrate the win, Aleksander started dancing, and then… started taking his clothes off. All of them.
That wasn't enough, though, as he then proceeded to slide his penis into the championship cup.
"Winning the Cup is a big thing and obviously it should be celebrated", said a communication officer for the team, "But it is very possible to do so in a manner that shows the cup a bit more respect."
Aleksander himself later joked on the matter, and wondered whether he needs to apologize to the King of Norway.
"I can understand [that some people didn't like it]. Should I apologize to the king? Well, I was very privileged to say hello to the king yesterday so maybe I should apologize today."
Watch it all happen right here: