Sure, we love listening to Nick Jonas' songs. But what we like even better, is watching Nick Jonas in his undies, crossing an ice-cold lake, and then warming his feet in another man's armpits. A classic.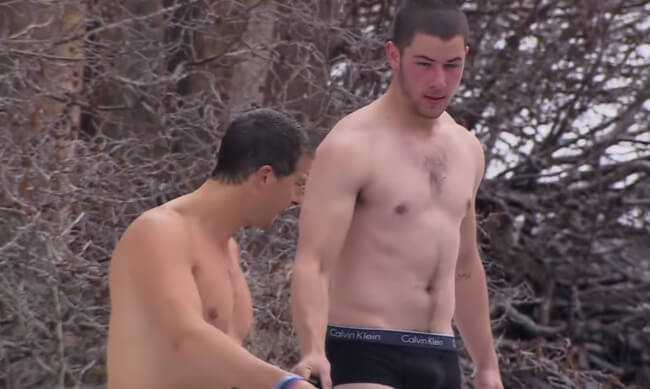 "Running Wild with Bear Grylls" is a reality show, where on each episode Bear Grylls brings a celebrity to join him in his outdoor adventures. In the season 3 première, earlier this week, Nick Jonas was the star – and the two kicked it off marvellously, crossing a freezing lake.
After stripping down to his tight, black underwear, Nick walked straight into the lake, while screaming motivational phrases, such as "We can do this, we got this!".
After climbing out of the water, Jonas, who is diabetic, had to keep his feet warm – so what better way than to stick them under Bear's armpits. "It's the warmest part of the body," Bear explained. "Well, second warmest, but I wasn't going to subject Nick to that after that ice swim."
Watch the frozen lake scene right here:
h/t: Instinct