Nick Jonas had three celebrations this week: the release of his new album ("Last Year Was Complicated"), the release of his erotic thriller (filmed 3 years ago) – "Careful What You Wish For", and the airing of his first gay sex scene on "Kingdom". All in all, a very sex-filled week – and Nick isn't shy about it.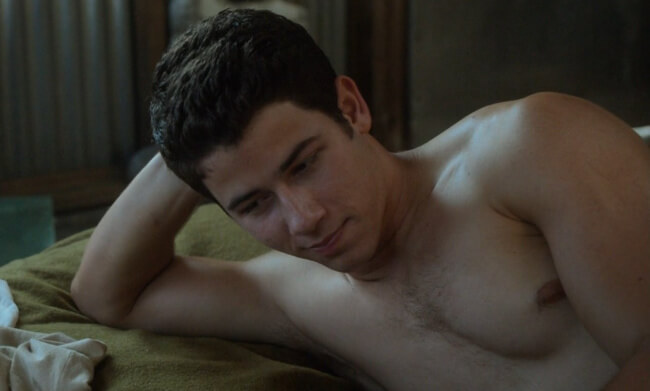 In an interview with Vulture, Nick addresses his first-ever sex scene, on "Careful What You Wish For":
"I've been acting in stuff since I was very young so I kind of have this mentality that it's just your job, you know? It's what you have to do to tell the story… I'd probably say it didn't matter to me that much. I wasn't freaked out by it. You just have to do it."
Nick was also asked about constantly taking his shirt off on his various projects:
"As I've gotten older, it's been nice to just explore and be creative. With Kingdom, obviously fighters fight shirtless, so that's why that's happening. In addition to that, it's playing around with creative minds who have great ideas, and part of that is tapping into an older side and a sexier vibe. "
And would he say Yes to full nudity?
"To a certain degree, though I think there are things that'll probably make me a little uncomfortable. I'd have to see how important it was to the story to go fully nude or not. But I think if it's the right thing and it feels important that it be in there, then I'll do what I gotta do.
As always, Nick was also asked about being a gay icon, and his gay fan-base. "It's definitely grown quite a bit over the last couple of years", he says. "It's been pretty amazing to see how far the whole fan base has come. I'm thankful that the gay and LGBT audience has been so amazing."
A word to the wise, Nick – keep taking your shirt off, and we'll keep being fans. Read the full interview right here.