Nick Jonas is burning our screens these days, as the very-gay, very-muscular and very-shirtless Boone on "Scream Queens", along with a hot infatuation he has with his roommate.  But how did Jonas end up with a SECOND gay role in a row? (The other one is on DirecTV's "Kingdom")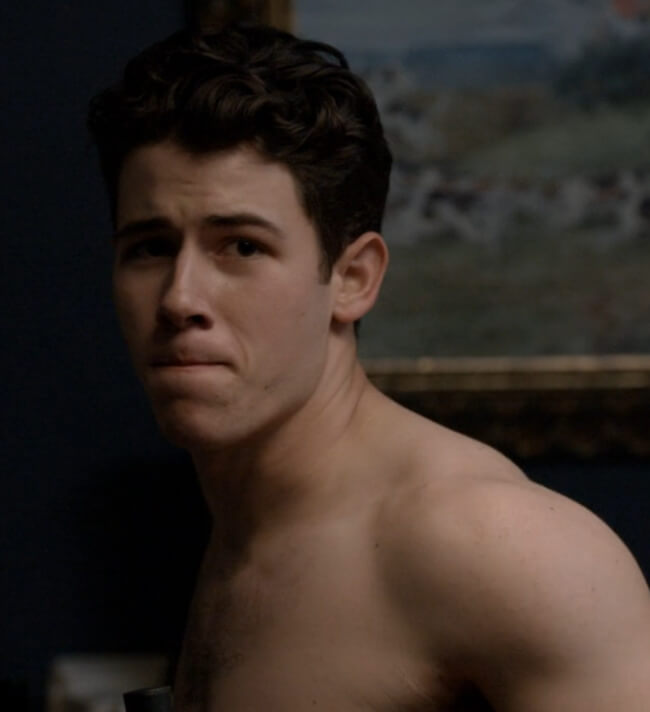 In an interview with USA Today, Jonas says the character's sexual orientation is not really a factor. Instead, his choice is "not based on whether the character is gay or straight, but about what the story is and what the audience is going to get out of it."
"In the case of Scream Queens, there's comedy within the role and I think at its core it really is a social commentary about stereotypes and breaking down some of those barriers. Ryan Murphy obviously does that so well."
Scream Queens is the latest series from Glee and American Horror Story creator Ryan Murphy, combining comedy, horror, and hot guys (and, yes, LOTS of girls). You can watch it every week on Fox, or through Hulu (where you can also get a free 2-week trial).
As mentioned, Jonas has another gay role on TV these days, as a gay boxer on the drama Kingdom.
With 'Kingdom', my character is going through a really different journey where he's struggling with who he is. I think that's a highly relatable story line that a lot of my fans, both gay and straight, have come and told me that that's been incredibly important for them: to see the journey he's on and to know they're not alone, whatever it is that they're going through in their life that makes them feel different or strange. 
Whatever his reasons may be – we just want more Jonas in our lives. Oh, and if you do need some more Jonas – there's that time he danced in an elevator with a penis.