Last year, people all over the world were moved by the video and pictures of a London Metropolitan police officer who proposed to his boyfriend in the middle of London's Pride parade.
Now, the policeman – Phil Adlem – reveals that the barrage of homophobia, threats and abuse that he suffered following the proposal, made him regret doing it in the first place.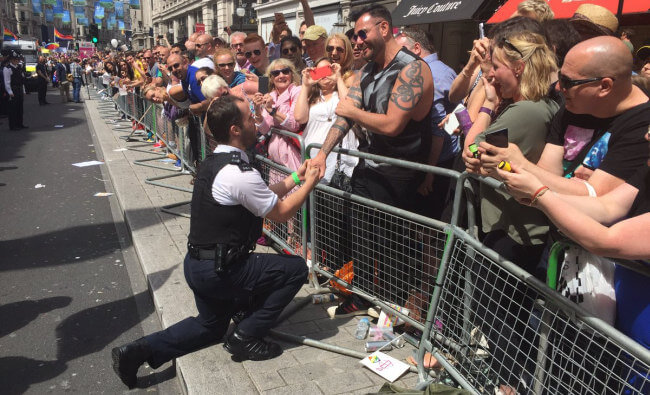 The video of Phil proposing to his boyfriend was shared by the Metropolitan Police LGBT Twitter account, and quickly went viral all over the world.
A year later, in an opinion piece for The Guardian, Phil says he was surprised and happy at first (being someone who usually ignores social media), but his joy quickly turned to agony, when he continued to read some of the comments.
"I looked through the online comments from the British public. Most were fantastic… But my smile did not last long as I continued reading.

'Both should be hanged till death', 'Absolutely disgusting' and 'Don't blame Isis if they strike them!'. There were countless more, some with threats.

A further hostile reaction at work from one of my colleagues and another from an old college friend was enough for me to wish I had never done it. I had requests for interviews but I rejected all of them. In hindsight, I was letting other people's opinions dictate my actions."
Phil adds that this wasn't his first encounter with harsh homophobia. At 18-years-old, after going out with his "secret boyfriend", he was brutally beaten in an alley by three men.
Years later, Phil understand the importance of Pride, amidst some who say it is no longer needed. "Pride is an invaluable source of positivity and strength for anyone who has experienced abuse or bullying."
This year's Pride in London parade will take place on Saturday, July 8.