Jack Falahee is responsible for some of the sexiest – and most endearing – moments of "How To Get Away With Murder". He plays a gay lawyer, who's in a relationship with an HIV-positive person – and, let's face it, he's very easy on the eyes.
In the past, he refused to discuss his own personal sexual orientation directly – but that has now changed.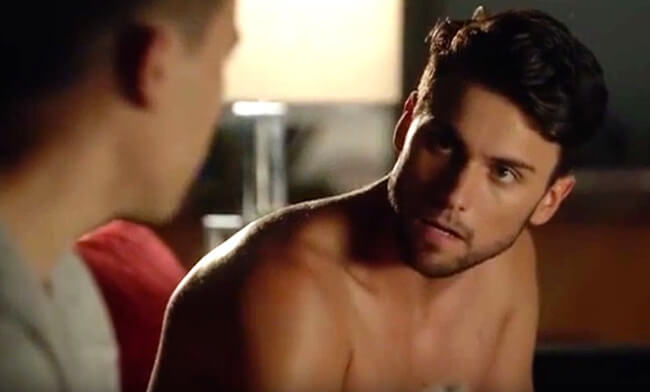 The series was never afraid to show Falahee's gay relationship, including some pretty explicit gay sex scenes. The series' creator, Peter Nowalk, recently explained to NBCNews  why the character was so important to his: "I'm gay, so I wanted to write a character that I hadn't really seen on TV before".
Now, in the aftermath of Trump winning the U.S. elections, the actor – Falahee – posted a lengthy letter on his social media outlets, stating that – sorry, he's not gay – but he's going to be a supporting ally:
I spent the election night with a few of my close friends, glued to the television… By the end of the night a friend of mine, who is gay, was sitting on the floor under a table crying. Exhausted by the campaign fueled by bigotry and hate, he couldn't face the reality of the next four years.

He had every right to be afraid. We now have a VP who believes in conversion therapy, that homosexuality is a choice and that marriage equality will lead to societal collapse. We have a VP who doesn't believe that my friend should have the same rights as me, and that's scary.

I didn't go sit with him under the table. I, too, was horrified by the results that night and left the viewing party dejected and angry but unlike my friend, I would be OK.

While I'm not gay, on HTGAWM I play a character who's in an interracial relationship with an HIV positive man. However, in the past I've declined to discuss my own sexuality in an attempt to try and dismantle the closet.

Opponents to my ambiguous answers to questions surrounding my sexuality argued the importance of visibility. Ultimately, I think that my stance has been unhelpful in the fight for equality.

I feel that I've sacrificed my ability to support the community for a more theoretical discussion about sexuality. Now more than ever, I want to offer my support to the community as an ally…
And he ends with: "Now, I'm going to call that friend who was crying on the floor".
Read the full statement in two parts right here:
(1/2) sorry for the small font, but I wanted you all to read this. pic.twitter.com/9BAKHJMTdJ

— Jack Falahee (@RestingPlatypus) November 15, 2016
(2/2) pic.twitter.com/OWikxWbSAY

— Jack Falahee (@RestingPlatypus) November 15, 2016
h/t: Instinct Magazine