People in Israel are celebrating "Family Day" today (what used to be "Mother's Day"), and the official Israeli Air Force Facebook page has posted photos of several Air Force families. One of those families consists of two proud, gay newlyweds – and their photo has gathered thousands of positive reactions on Facebook, along with – unfortunately – a few homophobic ones.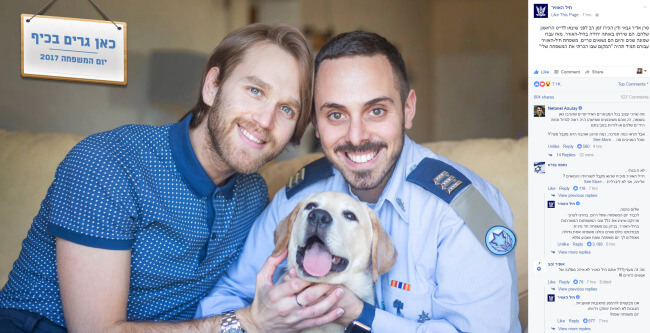 Newlyweds Captain Adir Gabay and his husband Dean, have met each other while serving in the Air Force, and have recently married (though gay marriage is NOT officially possible in Israel, and gay couples have to marry overseas) . The Israeli Air Force Facebook post says as follows:
"Captain Adir Gabay and Dean have known each other for a long time before going on a first date. They have served in the same Air Force Unit. Eight years have passed since then, and today they are newlyweds. The Air Force family, for them, will always be "the place where I've met my family."
The post has gathered close to 7,000 likes (so far), and a lot of positive comments. One annoying homophobic woman, called "Nechama", made it a point to admit she is "not a liberal", and therefore can't understand the aim of this post. "The Air Force proves that it accepts gays?", she wrote, "I think there are some things that should stay private", to which the Air Force's Facebook person answered:
"In light of Family Day, we have decided to create a project which puts on display all types of families that serve in the Air Force, including a gay family. For us, everyone is equal and we are all one big family."
In Israel, openly LGBT soldiers can serve in the Israeli Defense Force without discrimination, though homophobia can arise sometimes. Last year, a bill that would have equated the rights of gay and straight families of soldiers who have died in battle failed to pass in the Israeli Parliament. Omer Nahmany, an Israeli military officer in the reserves force, then turned to Facebook, where he wrote a brave and emotional post, saying that his country has abandoned him. Omer recently started a movement would work to improve the rights of LGBT soldiers.
It's good to see that at least on social channels, the army (and specifically the Air Force) is just as tolerant and accepting towards the LGBT community as one would hope.