Some people are just fine with regular, vanilla gay sex. Others look for some more excitement and adventure – and an orgy certainly fits the bill. But what would your first orgy look like?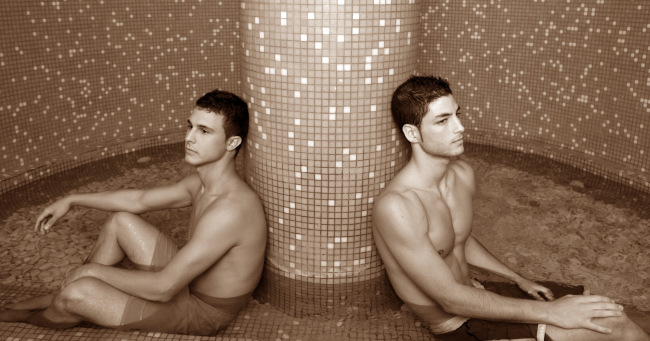 It all started for this guy on Reddit when he was on vacation. A man hit him up on Grindr, and on his way there, the man texted him to say he's hosting a party "with a bunch of guys."
"At this point, I figured I might as well go in and see what happens", he writes.
"I walk in and there's a bunch of random dudes on their phones. They do not make eye contact with me, look up when I say hi, or even talk to each other.

The Dude kind of ignores them and walks me around the house. It turns out he's got quite a setup: various rooms with a sling, toys, and other things; ample condoms and lube; and he even has a system for organizing and securing people's stuff.

After he shows me around, he and I get busy. And I mean REALLY busy. The guy has probably some of the best dicksucking skills of any top I've had… And that's when the other guys started showing up.

They started poking their heads into the room, looking at us, and then walking out. One of them audibly said, "Shit, he's Asian." This pisses me off.

The Dude and I keep going for a while til I can't take him anymore without passing out. He gets up to get a drink.

Two more guys walk in, and they decide they want to fuck me. However, both of them were disappointed when I ask them to use condoms. They claim they can't get hard with a condom on."
He kept walking around the house, observing and experimenting, and came back with the Pros and Cons of his first-ever orgy:
The Bad:

There are 8-12 guys at any given point. There are also two women who were occasionally participating but largely hanging out. I am the only guy I saw who was bottoming. This may sound like a total fantasy to some, but I wasn't ready for my first orgy to be taking like 10 dicks.
Most guys were not "into Asians." I am Asian (well I'm European too but I look Asian).
This resulted in a bunch of naked dudes just awkwardly standing around in a dark hallway jerking off, presumably because they had no one to fuck.
I'm not sure how the ratio of tops to bottoms got screwed up, but it did and some people were not happy.
Everyone but me was high on something – weed, ecstasy, meth, probably more. This made me really uncomfortable. I don't do hard stuff and especially don't do anything if I'm not around a bunch of people I know.
Nobody was into foreplay. Or talking (both sexy talk and general conversation). Besides the music, it was eerily silent much of the night.

The Good:
It was probably the most ridiculously arousing setting I have ever been in.

Literally

everyone's walking around naked and at least partially hard.

Every guy had a huge penis.

The ladies were the only people who really talked to me, and they were hilarious.

The Dude who invited me was absolutely phenomenal.