Ever wondered how porn stars become… porn stars? Some apply by themselves, but it turns out that just like with regular movies – porn companies also have "scouts". And when this guy on Reddit was "scouted" for porn – it was funny at first, but then his co-workers started undressing in front me.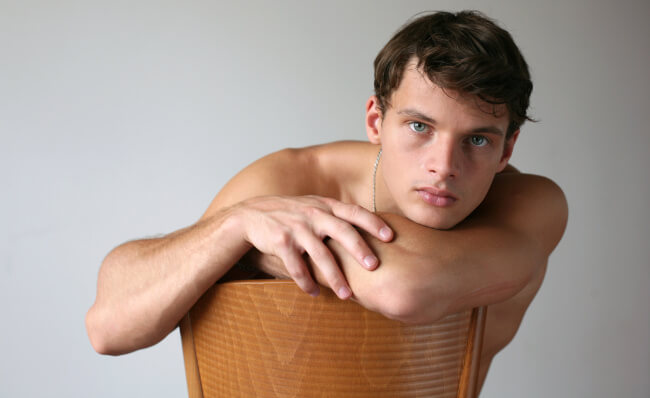 "A few days ago I was at my retail job", he begins his story. "A thirty-something year old woman walked by and said hi to me, then backtracked when I looked up and smiled back. She came closer and introduced herself, then told me she worked for a production company, and asked if I was open to other employment opportunities."
Sounds simple enough so far. But then there's a twist…
I'm interested in Special Effects and animation, so I figured she worked nearby in Hollywood. Figuring that's what she meant, I said absolutely, to which she smiled and said she thought I'd be great in the industry.

"Clearly you don't have a problem interacting with people if you work in a job like this," she commented with a smile. She took down my contact info, but at the last second I got a bad feeling about it, so I panicked and changed my phone number.

Later that night, I got a DM on twitter. It was from an account called Vivid Entertainment. The message said "Hi Tyler, our scouting agent thought you'd be an asset to our brand, is it okay if we emailed you?"

I had no idea who they were, so I clicked on their profile and low and behold, the first tweet was about #squirtmania live. Shocked, I googled them only to find out they are one of the largest producers of porn in the world.

Personally, I found it flattering. I laughed it off and the next day at work, I told my coworker about it. He thought it was awesome, and made sure to tell me I should accept. I soon found out the following day, that he took it upon himself to tell all my coworkers in my department and then some. Then my manager found out, and surprisingly she agreed that I should do it, and "earn that fat paycheck!"

As for my looks, I'll just say that non of my co-workers were surprised I was offered the job. And my manager said I was her second employee to be approached for the porn industry.

To my absolute horror, the next day, my operations and store managers came walking by while I was working and said "so I heard you got a job offer," while looking me up and down and smiling.

Then later my loss prevention manager did the same thing. Now whenever he sees me he starts seductively unbuttoning his shirt and gyrating his hips. Everyone finds this hilarious, and now several people are imitating him, particularly my other manager Kevin, who will prop his leg up on a nearby table and stare me down while doing it.

Wherever I go, my coworkers are trying to take their clothes off in front of me, which is worse than it sounds for someone easily embarrassed like me.