Brent Corrigan (Also known as Sean Paul Lockhart), the 30-year-old on-and-off-and-on again gay porn star whose name became widely known last year due to James Franco's King Cobra movie – is finally tying the knot, with his fellow porn star and boyfriend, JJ Knight.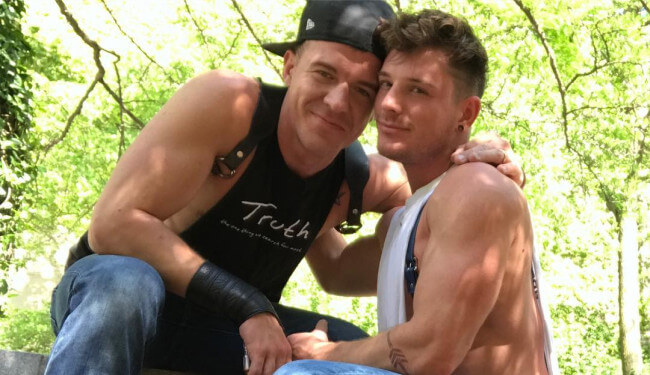 King Cobra was loosely based on Brent Corrigan's life and the brutal murder of porn producer Brian Kocis, though Brent was very vocal in his opposition to the film. In the film, Brent was portrayed by Garrett Clayton. (You can watch it through Amazon)
Throughout the years, Brent starred in many gay porn films, as well as several indie mainstream projects.
His boyfriend in the past year, JJ Knight, revealed their engagement in an Instagram post, in which he wrote:
It's True We Don't Have It As Easy As Ordinary Couples. But I Can Promise You That This Is No Ordinary Love!! (He is the man of my dreams and I am proud to call him my fiancé!)
https://www.instagram.com/p/BU6HWu2AjIg/?taken-by=jjknightxx
Speaking with Str8UpGayPorn (NSFW Link!), JJ Knight added some more details about the happy engagement.
"I asked him in February, in Sydney. Brent was a bit hesitant at first, considering it's my first long-term relationship, and he has been through a couple that haven't ended so well. But from that first kiss on set, I just knew that this is the man of my dreams."
Some of Brent Corrigan's past relationships were pretty troubled – first and foremost, of course, was his underage relationship with Brian Kocis who filmed his first porn scenes, but later on, some of Brent's boyfriends ended up in business disputes with him, over the several different cycles of his personal porn websites.
https://www.instagram.com/p/BR-CkEog_7D/?taken-by=jjknightxx
But now, Brent and JJ are in love and happy together – and while a date for the wedding hasn't been set yet, they're "excited to see the future we can build together, in and out of the industry."
Congratulations!
Watch: Brent Corrigan's Hottest Scenes