Thanks to modern-day social media, porn stars these days are just as popular and internet-famous as many models and other social media "influencers".
So, it's no surprise they get a lot of questions from their fans – and in a recent YouTube video, gay porn stars Blake Mitchell and Leo Frost answered some of the more burning ones. Plus, they fulfilled a few… "special" requests.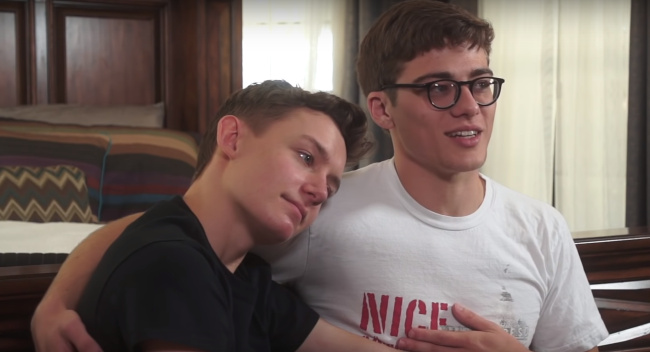 23-year-old Blake Mitchell is one of the most popular gay porn stars working today (though he himself is bisexual). He can mostly be seen on Helix Studios (NSFW Link!), and also on Davey Wavey's gay erotica website – Himeros.TV (Also NSFW Link!).
Leo Frost is a newer Helix Studios model, though he's been filming with them since 2017.
The two came together (pun intended?) for a new scene, but before the naughty bits started, they sat down to answer questions and requests from Twitter fans.
#Helix: Blake Mitchel x Leo Frost is almost here (: to say that he's amazing is an understatement and the "Mitchel treatment" or whatever y'all call it is like indescribable and yeah pic.twitter.com/p78P0FGTUc

— Hi Bich (@LeoFrostX) July 25, 2018
The SFW parts were uploaded to YouTube, so we can show them to you here…
One of the first questions for Blake and Leo was "How slutty are you from 1 to 10?" – they both say "2" ("I keep it classy"), with Alex the interviewer reminding them that "that's exactly what a slut would say."
Blake also talks about the wrestling he used to take part in during high-school and a certain trick he used:
"I was always distracting the competition. I would get a full semi, and THEN put on the speedo and the singlet, because it throws the other guy off. It's soft, but it's BIG! Nobody wants to grab under the leg…"
Near the end, they move on the fulfilling fans' requests – and Blake… tickles Leo. Eventually, they move on to things that involve both of them getting naked – but that part's not on YouTube, naturally. You'll have to go here to see the very NSFW version.
For now, here's the (mostly) SFW version: