"How nervous can you be about something when you don't have to worry about getting a boner and licking an asshole and getting your ass licked? it's just… OK, let's do it."
That's how longtime gay porn star Kyle Ross starts his behind-the-scenes video and interview – and we're ready to hop along for the ride.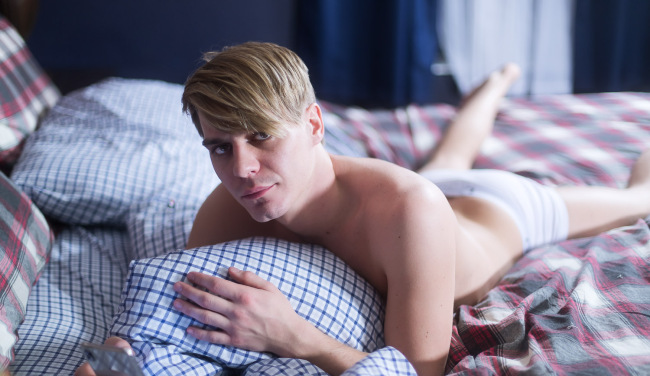 25-year-old Kyle Ross has been in the porn industry for 7 years, working for twink powerhouse Helix Studios. In a documentary titled "Private Life: Kyle Ross", which is SFW enough to be available on YouTube, Kyle talks about various aspects of his professional – and personal life.
For example, he reveals his crazy coming out story – which involved a Grindr hookup and… the police.
"I was 17 at the time. We went through moves and craziness and we were staying in a hotel in St. Louis. At one point late at night I set up a Grindr hookup, with an older guy. He came and he picked me up from the hotel and took me to his house.

When I left the hotel my twin brother called me, and I probably should have answered, but instead, I turned my phone off.

When we went back to the hotel, there were police cars out front. The guy drove me to the back of the hotel, I just went back to the room and climbed in bed, my dad comes in – 'get up, what the hell, we know you weren't here.'

The police pulled over and word got out that I was with some older guy who met me in an internet app. So I was outed to my entire extended family on my dad's side by getting caught on a Grindr hookup with an older guy. It was quite embarrassing."
Kyle also opens up about his famous relationship with fellow gay porn star, Max Carter. The two were a gay porn "power couple" for seven years, and were even set to get married – when things went south.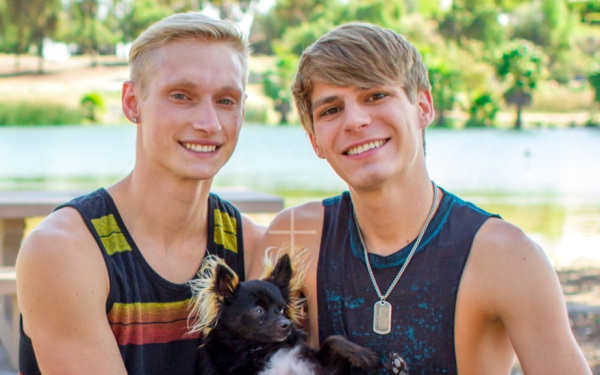 "We got together when I was 18 and he was 19. I had just started my career in porn, he had been in it, filmed 10 scenes up to then. We grew up together. We found ourselves as public figures and developed how we were gonna deal with that, together. We moved together from Texas to California to work for Helix.

At some point, like any relationship, we started having problems. We moved to Vegas together, and we were kind of having issues. We started looking at houses and got the house that we wanted… Shortly after we took a family vacation to Texas. And he gets me a ring and proposes. Of course I said yes, I didn't even think about it.

For a while, I was excited about taking this next step in the relationship. And it was official and it was announced on Twitter and it was really exciting for quite some time.

And then we had some struggles at home, I made a really tough decision and we broke up and I moved into my own apartment. It was the first time that I ever lived on my own.

I wanted to try something else. It's important to experience single life."
Watch the full video, where Kyle also talks about his early years in gay porn, his "masculine car" that drives the rednecks crazy, and how performing in gay porn is like the casual sex in his life.
Watch Kyle Ross' Gay Porn Scenes Here