Gay wedding proposals (or as some might say – simply wedding proposals) still warm our hearts every time – but it's getting more and more difficult to surprise us with a unique proposal.
Well, Jake Conrad did it, with the first-ever gay proposal during an NBA game, with the help of the Chicago Bulls.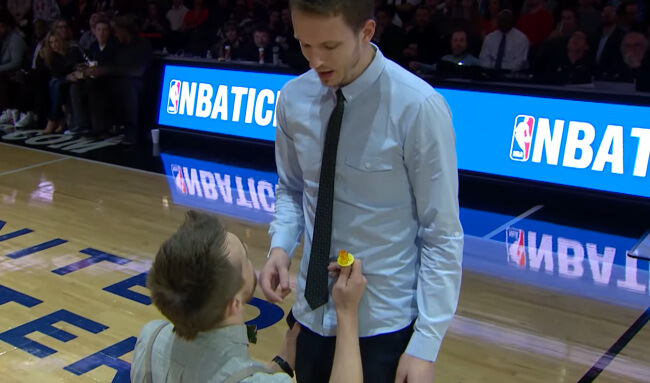 Earlier this week, Jake asked friends on Facebook whether anyone knows someone he can contact at the Chicago Bulls. The reason? His boyfriend, Michael Holtzman,  is a long time Bulls fan, so Jake wanted the proposal to take place around the game.
When Jake first contacted the Bulls, he intended to buy a "fan experience package" – but when the team heard the story, they offered an even better plan – a mid-ring proposal, during the game, before the entire arena.
Speaking to OutSports, Bulls spokesman Ross Lipschultz said "The team worked with Jake to set up a proposal during a timeout involving Benny the Bull and the Luvabulls. The Chicago Bulls are honored to have been part of such a special moment for this couple."
Watch these heartwarming moments right here:
h/t: NewNowNext