Remember back in the 80's when the original Dynasty was considered brave and groundbreaking for even mentioning a gay character? (Steven Carrington of course, who later became… straight? bi? and then gay again…)
Well, it's 2017 now, so when we watched the newly released trailer for the upcoming CW reboot of Dynasty, we were happy to see two hot men having sex right from the start.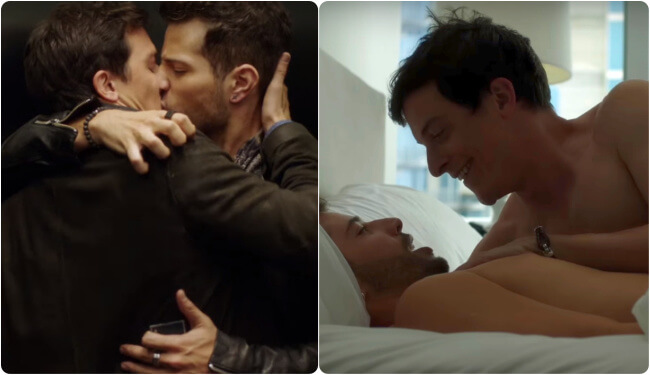 Steven Carrington (played in the original series by Al Corley and then replaced with Jack Coleman, with Corley coming BACK for the final reunion miniseries) was indeed a groundbreaking character – one of the earliest openly gay men on prime time American TV.
We're in different times now, though – and while there's still a lot of LGBT representation missing on TV, we at least get a new and improved gay Steven – having gay sex right in the trailer.
Steven is played by James Mackay (who looks surprisingly like Jared Kushner) and his lover is… Sammy Jo, who was portrayed by Heather Locklear in the original series, and here has turned into the hot Rafael de la Fuente.
A younger Blake Carrington is played by Grant Show (of Melrose Place fame) this time around, and Krystle Carrington has turned into… Cristal – a Hispanic brunette. No word on Alexis yet, though…
The series is expected to air next autumn on The CW.
Watch the trailer right here: