This week we learned that Colton Haynes, the out TV star (Arrow / Teen Wolf and these days – Scream Queens) has a very unique bucket list (that is – things you want to do before you die), which includes… swimming with pigs.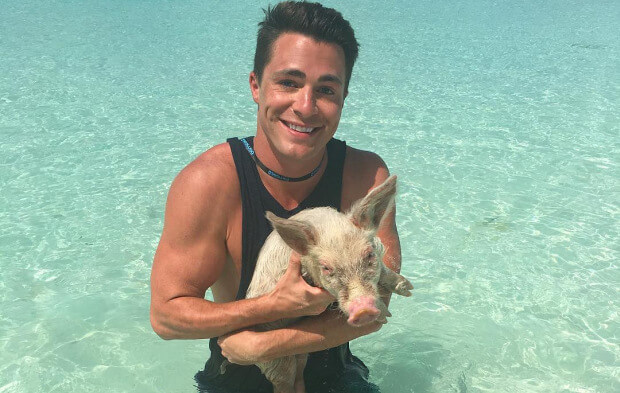 Colton was on vacation in the Turks & Caicos this past week, supplying us with beautiful watery photos such as this one:
And another one –
But from there, he moved on to the Bahamas, teasing us:
Just landed in the Bahamas for Vacation # 2 to cross off something on my bucket list 
Two days later, the mystery was solved – it turned out Colton went to… swim with pigs!
There's a beach in the Bahamas, where a family of very friendly pigs lives. The official website explains:
The family of pigs, dubbed 'adorable' by tourists, locals and media alike, have become incredibly popular. They live freely on the sandy beaches, and after basking in the sun for hours, they swim in the surf.

The pigs, though feral, are exceptionally friendly, running from under the shade of the almond trees to greet visitors that bring them treats.

It is unknown how the pigs originally came to live on Big Major Cay, as they aren't native and the island itself is uinhabitated.
Definitely looks like Colton had a lot of fun:
And while there, why not also… swim with sharks?
We can't wait to see what he does on his next vacation.