At the start of his career, we've seen Charlie Hunnam do A LOT with gay men on-screen. As Nathan on the UK version of Queer as Folk, there was little left to the imagination…
But now, years later, Charlie explains that he really hates sex scenes – and kissing scares him as well. And it all goes back to germs that can make you go blind.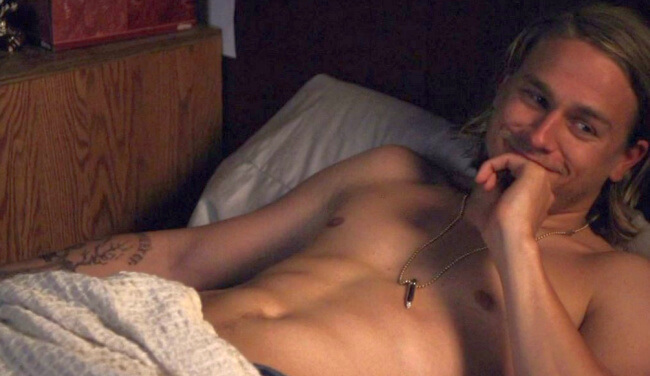 Just last week, Charlie Hunnam confessed to having a lot of sex in order to keep his body fit. But as it turns out now, in his interview with Elle, the 36-year-old Sons of Anarchy star is very particular about who he's having sex WITH, and even who he is willing to kiss – in fear of going blind.
As it turns out, Charlie is a big germophobe. "I've been profoundly germophobic since I was a young child. I don't want to kiss anyone but my girlfriend for my whole life."
And the reason? It all started when he was growing up as a child in a rough are of Northern England.
"When I was maybe eight or nine, there was a parasite from dogs in the north of England that, if you ingested it, could turn you blind.

We had a thing in schools to educate the kids about the importance of hygiene, specifically around dogs, because we had a few kids who went blind. That horrified me.

The point is, everyone thinks it's great to be an actor and get to kiss a bunch of beautiful actresses in films, but I actually hate it."
So now we know. And if you need some more Hunnam in your life (who doesn't?) his new film, The Lost City of Z, will be released in April.