Back in 2012, Carly Rae Jepsen's "Call Me Maybe" was a huge hit, with endless covers and parodies, and a music video that – to date – has reached more than a BILLION views. But what many of us remember most from that clip, was the hot gardener and his incredible abs – Holden Nowell.
But now, six years later – Holden is in a very different place, speaking against Carly, against the modelling world – and against that gay twist at the end, and the part he had to take in it.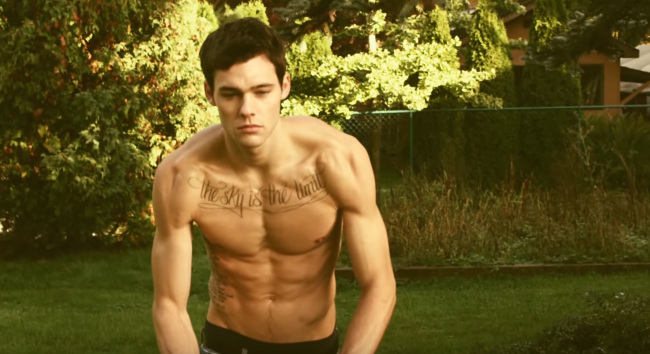 Also See: Remember Harvey From "Sabrina the Teenage Witch"? You Won't Recognize Him Today
Holden Nowell was 22-years-old when he got picked to star in Carly Rae Jespen's music video, and his face became the face (and abs) of that song.
In case you somehow forgot, the video shows Carly lusting over the super-hot gardener, dreaming about their beautiful future. But then, in a twist ending, it turns out the gardener is much more interested in her… male guitarist.
Speaking with IHeartRadio, Holden says he only got paid $500 for his work, and saw no royalties. However, the fame was very difficult for him, being recognised everywhere for that video, and he got "really sick" of it.
More than that, Holden now says being known "as the gay guy in the 'Call Me Maybe' video" was something he didn't like. According to him, the original ending was supposed to show him kissing another guy – but he refused.
"I'm going to be completely honest with you. I'm not going to kiss a guy, especially for $500. I said 'I really don't think I'm comfortable kissing a guy for a music video.'

I said, 'You know what? What if instead of me kissing a guy at the end of the video, what if I just give a guy my number or something like that?"
Holden also has some harsh words against the modelling industry, which he didn't last long in, claiming it's full of "predators. "They pimp you out. You're basically a Geisha girl", he says. '"Gay for pay' is literally what runs the male modelling industry and I don't get down like that.
"I think people should be allowed to love who they want to love, but I love women. There's no amount of money, no amount of fame that could ever make me… I couldn't do something that didn't feel right in my soul."
These days, Holden is a hip-hop singer who goes by the nickname SixXx'Tre . 
And now – you knew it was coming – here's a reminder of Call Me Maybe…