On such a historic day, when Australians have finally voted to approve same-sex marriage, it's only fitting to watch this moving gay marriage proposal by an Australian man, who was inspired by the marriage equality vote (and by his boyfriend being such a wonderful man, of course.)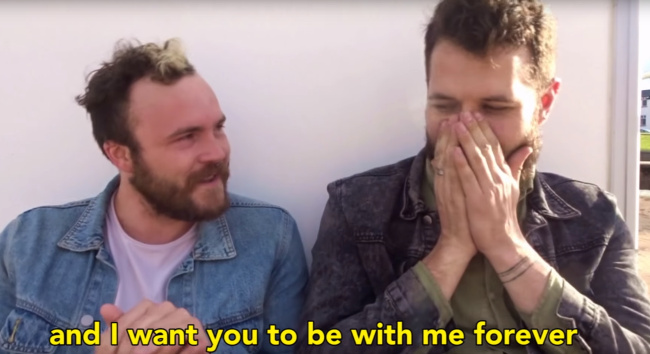 Brad and Beau from Melbourne, Australia have been together for a year and a half, after meeting at a gay disco, on Brad's birthday no less.
When it came time to propose, Brad decided to surprise Beau during a trip to Northern Ireland.
"I don't know why I'm so nervous", Brad says at the beginning of the video. "I'm just confessing my love, and that's so easy for me – but my hands are shaking."

There's no singing and dancing, no flash-mobs and no surprise guests – just two men in love, sitting together, as excited and emotional as can be – and it's beautiful.
Watch it right here:
A month later, Brad updates us that his friends and family all lost their minds following the proposal. "They were blown away. Nobody expected me to do it and they couldn't be happier with my chosen partner. They're thrilled!"
Any plans for the wedding?
"Lots and lots of glitter. Instead of a flower girl we'll be having a glitter girl."
And soon, if it all goes well… they'll finally be able to legally marry – in Australia.