The Orlando shooting claimed the lives of 49 individuals, gay, straight, lesbian, bisexual and everything in between. A group of 49 celebrities, including Lady Gaga, Colton Haynes, Evan Peters, Chris Pine and many others, have come together to take part in a very emotional tribute, produced by Ryan Murphy.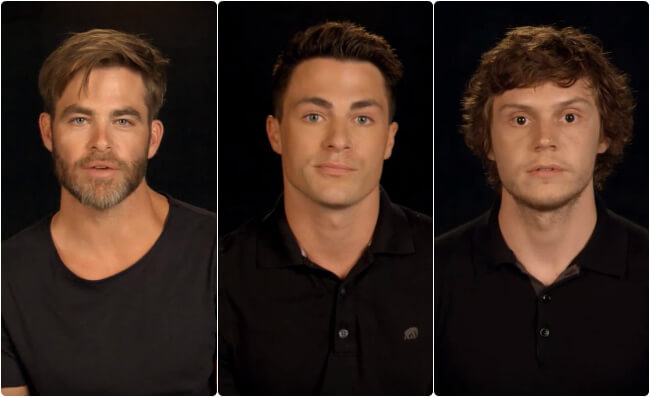 The 18-minute video was directed by Ryan Murphy and Ned Martel, and was shared by The Human Rights Campaign, who are calling on people to visit the Stop The Hate site. The video shows actors, directors and other entertainment figures reading the names, and sharing some memories, of the 49 Orlando victims.
The celebrities in the video, in order of appearance, are: Lady Gaga, Chris Pine, Cuba Gooding Jr., Connie Britton, Matt Bomer, Sarah Paulson, Angela Bassett, Lea Michele, Colton Haynes, Sophia Bush, Jane Fonda, Harry Shum Jr., Denis O'Hare, Rob Reiner, Melissa Benoist, Caitlyn Jenner, Édgar Ramírez, Max Greenfield, Chaz Bono, Cheyenne Jackson, Emma Roberts, Kerry Washington, George Lopez, Evan Rachel Wood, Sofia Vergara, Diego Boneta, Nina Jacobson, Demi Lovato, Tyler Oakley, Yeardley Smith, Kid Cudi, Kaitlin Olson, Kevin McHale, Jamie Lee Curtis, Lee Daniels, Chace Crawford, Evan Peters, Gerard Butler, Katey Sagal, John Stamos, Laverne Cox, Jordana Brewster, Wes Bentley, Finn Wittrock, Darren Criss, Kathy Bates, Anna Paquin, Guillermo Díaz and Joe Mantello.
Watch, and never forget – Love Conquers Hate:
h/t: Towleroad