Two times Olympic medallist Tom Daley is, as we all know, engaged to Hollywood screenwriter Dustin Lance Black. But a Tweet posted by Dustin yesterday, started a web of rumours – are the two already secretly married?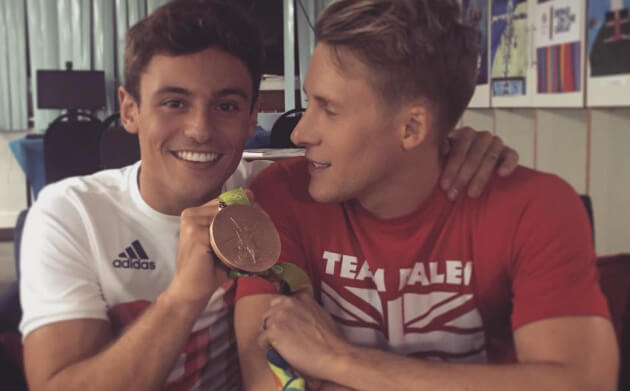 Tom Daley is still in Rio these days – after winning one Bronze medal, he's gunning for another medal, this time on a solo dive, this coming Friday. In the meantime, his fiancé is there to celebrate with him. Yesterday, Dustin posted the following tweet:
3M Finals with Johnny Chaillot. Watch out #FootballWives, the #DivingHusbands are in the house. #Rio2016 #Diving https://t.co/cLpvN9uL8N

— Dustin Lance Black (@DLanceBlack) August 14, 2016
The linked photo (you can see it down here, from Dustin's Instagram account), shows Dustin along with Johnny Chaillot – Greg Louganis' husband. (Greg is also an openly gay, former Olympic medallist), and referred to both of them as the #DivingHusbands.
The entertaining post started a flood of rumours and questions from fans, who speculated whether Dustin and Tom got secretly married, and are already husbands.
However, the British Mirror contacted Tom's agent – who confirmed that the two are not YET married. Good, because we want to see wedding photos when it happens!