Gay porn (or any type of porn) is about the fantasy – you need to believe what you're seeing is true. Will looking behind the curtain ruin the fun?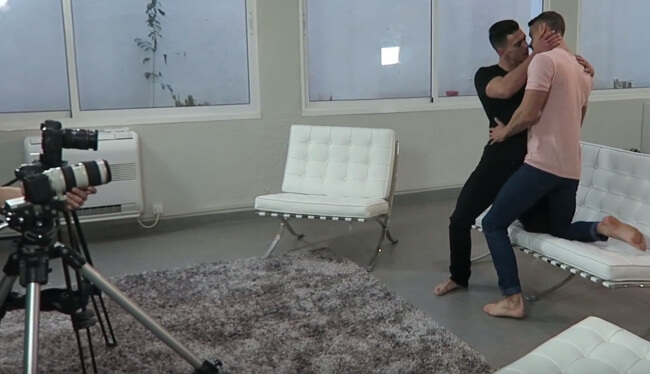 Popular YouTubers Davey Wavey and Riyadh K got together to test the question – and visited a Men.com gay porn shoot in Barcelona.
"Basically there are three things I love in life", Davey explains at the beginning of the video – "Gay, cheese, and porn."
"So like a really dirty Oprah!", Riyadh concludes, and Davey then explains why he's nervous:
My biggest fear as someone who really likes porn, is that some of the magic is going to disappear. Am I still going to be as passionate and as excited about porn in 24 hours? And secretly my other big fear is that I'm going to get hard on set…
Davey and Riyadh proceed to the apartment where the scene is being filmed, with gay porn stars Paddy O'Brian (Who reportedly sports 8 inches…) and Skyy Knox. 
You can watch the final outcome, called "Secret Affair", via this VERY NSFW Link. But first, see what it was like behind the scenes: