Nick Jonas and Demi Lovato are touring the U.S. these days with their Future/Now tour. On Saturday, July 2, they were performing in Orlando, and decided to give a very emotional tribute to the victims, along with fellow singer Andra Day.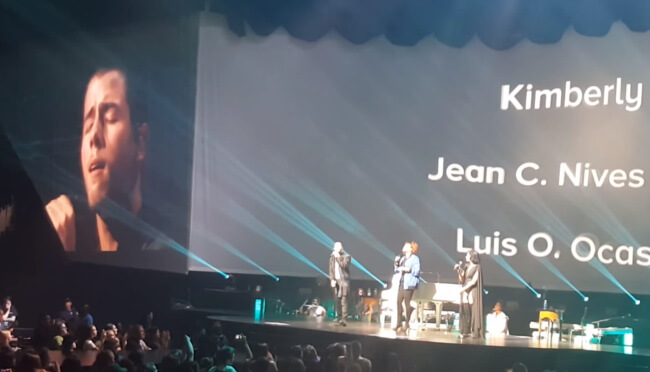 First, Hank (one of the tour members) came on stage, leading the audience in a very impassioned prayer, with Nick and Demi standing behind him:
Orlando you've been through a lot. We want to pause in the midst of this beautiful night, and say a prayer. A prayer of healing.

I want to invite you to join us in praying to whatever God is to you. But I'm gonna ask that we do this together, so that as we pray together, we would heal together.

If you can, put an arm around a person near you, or put an arm around a person next to you.

Close your eyes and look up to the sky, and let's pray for healing. God we thank you that in the midst of this place, we can pause and ask for healing. We come to you because we mourn. And some in this room hurt. And some in this room have lost.

And God, we gather here because we know you hurt with us.

We know that the only response to hate is love. The only response to violence is peace. The only response to evil is good.

So we in this room, 10,000 strong in Orlando, we rise up to bring healing and to bring good and to bring love so that death and evil does not have the last word.
After the prayer, Nick invited singer/songwriter Andra Day to the stage, and together they performed her song, "Rise Up", as the names of the Orlando shooting victims (along with Christina Grimmie), were displayed behind them –
And I'll rise up
I'll rise like the day
I'll rise up
I'll rise unafraid
I'll rise up
And I'll do it a thousand times again
Watch the very moving performance right here: