Amir Fryszer Guttman, a 41-year-old Israeli singer, director and gay activist, died today after drowning in a tragic accident, while trying (and succeeding) to save the life of his 9-year-old niece. Guttman left behind a husband, Yanai Fryszer, and their 4-year-old son, Roy.
His drowning was particularly tragic, happening exactly a year after he received news of his alleged cancer being a misdiagnosis.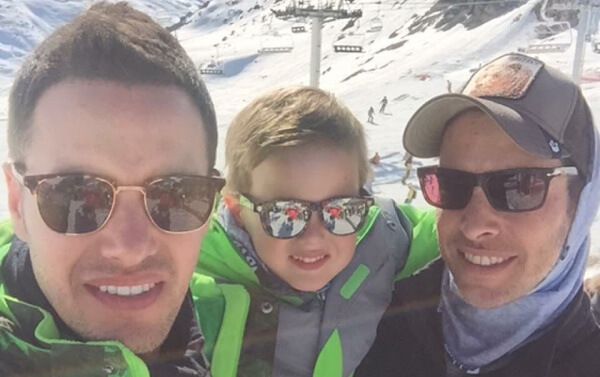 Back in the 90's, Amir F. Guttman was part of one of the first Israeli boy-bands, "Hi Five". The band was very successful at the time, and eventually broke up in 2000. A few years later, Amir came out of the closet, and went on to become a solo singer, actor, and theater director. He also took part in the Israeli version of Big Brother VIP.
In 2009, Guttman married his partner, Yanai. They were married by renowned Israeli actress, Gila Almagor, though their marriage wasn't legally recognised, as same-sex marriage isn't legal in Israel. In 2013, Amir and his husband had a son through a surrogate mother.
In 2016, Amir was diagnosed as suffering from non-Hodgkin lymphoma, and started undergoing harsh chemotherapy treatments. Three months later, after flying with his husband to a medical facility in the United States, he was told his cancer diagnosis was wrong.
Amir received the clean bill of health on July 22 2016, calling that day his "new birthday". This weekend, Amir went with friends and family to a beach near Haifa, to celebrate the one year anniversary of his new life.
At some point, Amir and his niece entered the water, and were drifted away. Trying to keep his niece above water, he eventually drowned himself, and was pulled out by his friends who rushed in. He was taken to the hospital in critical condition, and died a day later.
In recent years, Amir also became an LGBT activist. He took part in last week's demonstration in Israel, calling for the authorities to allow same-sex couples to adopt children. He was also set to be a presenter on the Pride Parade in Jerusalem, set to take place next week.
Countless Israeli actors, celebrities and politicians, as well as the general public, took to social media to show solidarity and shock in light of the terrible news. Gal Gadot, the Israeli actress also known as Wonder Woman, wrote in a moving Instagram post:
"A kind, brave man, who by trying to save his niece from drowning, saved her and drowned. It made me think about the Government's decision to ban same-sex couples from adopting children.

Amir was a father and a family man. How many people do you know, who will risk their own life to save someone else's?

Who gets to decide on who deserves to be a parent? We are all equal in this world, no one is a second class citizen. Love belongs to everyone, love is for everyone."
This is one of the songs from Amir's days in Hi Five – "Standing On A Cliff." May he rest in peace.