Michael and Dan, a gay couple from NY, are getting married. In addition, they're REALLY BIG Matt & Kim fans. Put the two together, and what do you get? One of the most adorable "Save The Date" videos we've seen – and a great response from the famous musical duo.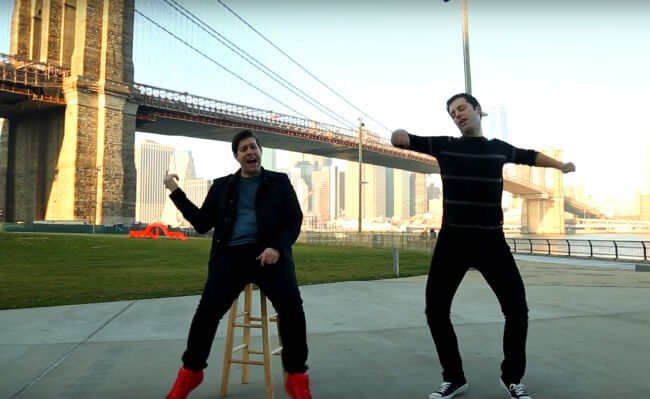 Michael, who works in PR, is originally from Long Island, While Dan, who works in series development at MTV is originally from San Diego. They've been together for six years – and are finally ready to tie the knot. After seeing their video, we had a little chat with Michael.
How did you two meet?
"A mutual friend introduced us when I moved back to NY from LA about six years ago. I actually saw a photo of Dan and wasn't really interested (it was a bad picture!) but then we ended up in the same bar one night and everything changed in person. We hit it off pretty quickly and have been together ever since!"
Tell us about the marriage proposal – who was first to propose?
"Everyone assumed Dan would propose to me, because he's the more outgoing and gregarious one in the relationship. I beat him to the punch though, and proposed one morning in our bedroom. No fancy setup or elaborate scheme – just the two of us sitting on our bed with our dogs. And I think Dan was actually in his underwear. Doesn't get more real than that!"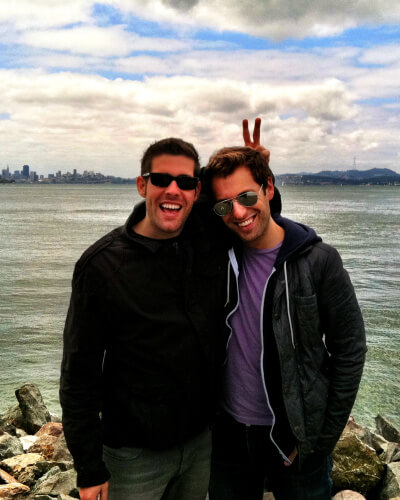 What are some of the plans for the wedding?
"The wedding is going to be pretty nontraditional. I think one of the best things about being gay is that you're free to stray from the more conventional wedding customs. It's really important to us that our personality as a couple shines through, so there will be lots of surprises. And maybe even a live performance of our video."
As mentioned, their "Save The Date" video, which you're about to see, was based on the music video for the song "Hey Now" by the musical duo Matt and Kim. Both Michael and Dan are BIG Matt and Kim fans – so much so, that they're having their wedding at Jane's Carousel in Brooklyn Bridge Park, where the music video was done.
"This is something that happened during the course of the relationship", Michael explains. "There's something about Matt & Kim's personalities that somewhat mirror our own, and I think that's why we love them so much.
"Matt is always in the spotlight in a way, because he does most of the singing – which is similar to Dan, who is very extroverted and talkative. But Kim shows her personality in other ways – like through her dancing. Everything they do is so outside the box and fun. We really admire that.
"Our friend Jules showed us the "Hey Now" video and we were immediately obsessed. The choreography is ridiculous and amazing. And you really can't find a more beautiful outdoor spot in NYC. The view is incredible. And to dance in the exact spot Matt & Kim filmed their video was such a cool feeling. Now we just need to figure out how to get them to come to our wedding!"
And that's not just a far-off dream – Matt and Kim have seen the couple's video, and have responded with this tweet:
This is amazing!! Congrats!! -k https://t.co/Mb76ucYwIa

— MATT and KIM (@mattandkim) January 6, 2016
Watch the video right here (Though, sorry, they can't invite ALL OF YOU to the wedding)