Jake Bass is both a popular gay porn model, and an LGBT activist. Being a porn star comes with certain risks – but that wasn't even the reason for his recent accident, which landed him in the hospital with a broken arm.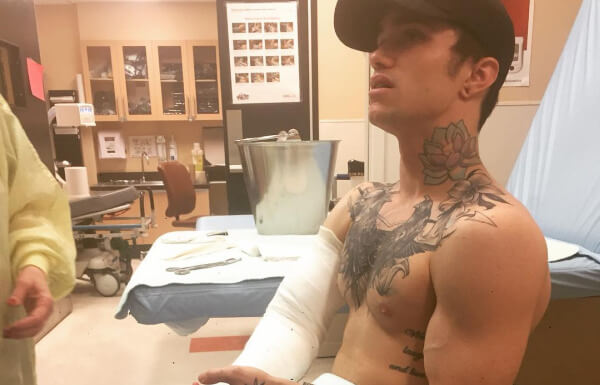 Jake Bass went skiing, trying to do his best impersonation of Gus Kenworthy, the openly gay Olympic freestyle skier.
However, even Gus had his share of accidents, when only last year one of his ski tricks went life threateningly wrong.
Yesterday, Jake shared this photo with his Instagram followers, straight from the hospital:
https://www.instagram.com/p/BO2us-lhFDG/?taken-by=itsjakebass
Unfortunately, a cast wasn't enough, and he later shared the fact that his broken arm would need plates and bolts, possibly turning him into the first-ever bionic porn star.
We're wishing him a speedy recovery – and face it, he still looks hot, even when sitting in a hospital – something most of us aren't really capable of.
Here's a photo from three weeks ago, to remind us of better days (and those to come!) –
h/t: Gay Times