Cameron Dallas, the 22-year-old internet sensation, social influencer and hot model, is known for the pranks and games he takes part in with his buddies.
On his latest video, Cameron plays a game of darts, filled with body dares – and ends up having to wax his [bare] chest and his treasure trail. And much screaming was heard…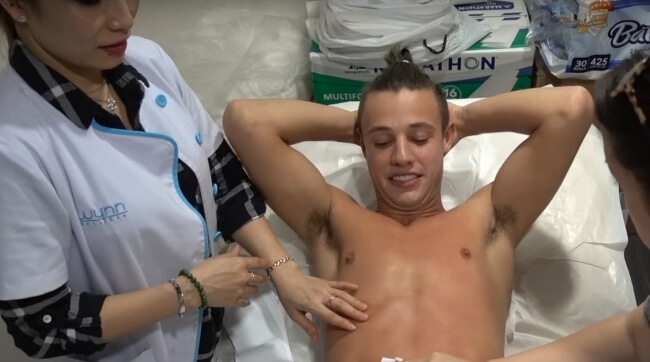 Cameron and each of his buddies had to throw darts, each of them throwing for someone else. Following that, they used a spinning arrow to choose one out of three "dare" options, which the person then had to do…
The boys (and a girl) had to then do things like pierce their noses, wax their eyebrows, and for Cameron, it ended up on a pretty high note – having to wax his chest was pretty easy, since he has almost no chest hair at all.
Still, if you move on to the 11:10 point, you'll see a bare-chested Cameron on the waxing table – and when they got down to his treasure trail, that line between his pubes and his belly-button, things did get a little noisy…
Watch it right here: