Cameron Dallas, the 22-year-old "internet sensation", is moving up in the world these days – not only is he a hot Calvin Klein model, and a popular YouTuber, he now also has his own Netflix show, debuting on December 27. But there's another thing. He's been eating a lot. Yep.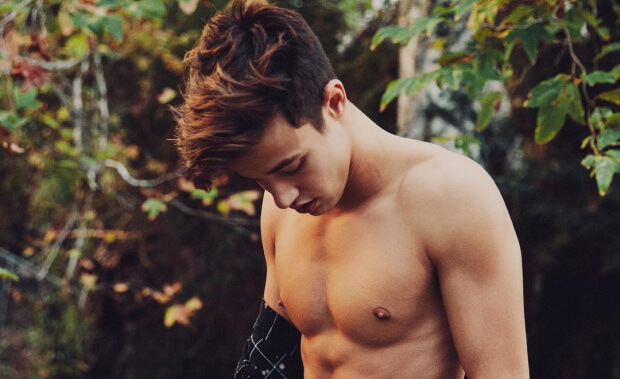 We love it when Cameron posts shirtless photos on Instagram, of course. It's even better when he posts video of himself swimming in see-through shorts, of course.
This time, however, while he's shirtless again, he's here with a problem. "Been eating a lot", he says in the caption.
Now, you must wonder, what Cameron Dallas looks like, exactly, after eating a lot. Well, see for yourself:
https://www.instagram.com/p/BOA3aMoAZFS/
I do NOT look like that after eating a lot. But… good for him!
And while we're on the subject, Cameron is also giving us a taste of his new series.
Wearing a sort of sweater with holes in it, and apparently nothing underneath that, Cameron wants to entice you into watching his new show.
You'll get to see him "bucked off a horse", behind-the-scenes of his social media world, and… "If you're really lucky, you might get to see us all naked". Hmm…