Longtime readers of GayBuzzer already know we often write about Cameron Dallas, the social media influencer and model, because he's – well – hot. But this week, Cameron took to YouTube to open up about difficult things he's been dealing with – including addiction to alcohol, and addiction to sex.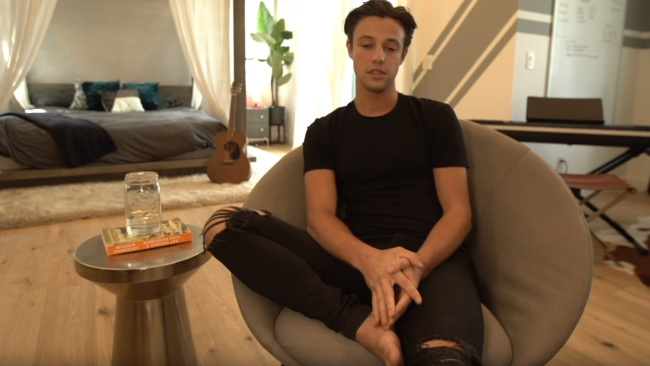 Cameron Dallas is a 25-year-old actor/model/influencer with millions of followers on social media. He had his own docu-drama series on Netflix, and is currently on Broadway, playing in Mean Girls.
Back in August 2019, Cameron opened up for the first time about his addiction, and how he's been to rehab, battling with it.
Now, in a new #AskCam video, where Cameron gets quite emotional at times, he goes into detail for the first time, about his vices, his depression, and how he's been dealing with these issues. "I hope it helps at least one person who watches this", he says.
"I was addicted to alcohol, that was my main thing – and sex. And those two things played in with each other a lot.

I have dabbled with other drugs like coke and ecstasy, and things like that, but my main two things were alcohol and sex.

I had a lot of people reach out to me and tell me I had a problem… I was really comfortable in hiding what my problems were. The first step was realising I had a problem."
Cameron goes on to tell how his first time in rehab was when he was 21 – but he left too early, and went back to his vices. Eventually, he went back to rehab.
https://www.instagram.com/p/B7810oxH4eg/
"I had to make a decision for myself. Do I want to stay in my addiction and live this life and end up in jail and die, or do I want to help myself and grow and be happy?"
Watch the full video right here: