Cameron Dallas, who recently turned 24-years-old, is a model, a soon-to-be-singer, and even has his own Netflix series. But most of all, he's been known as a "Social Media Influencer" – so what could cause an influencer to… delete ALL his social media posts?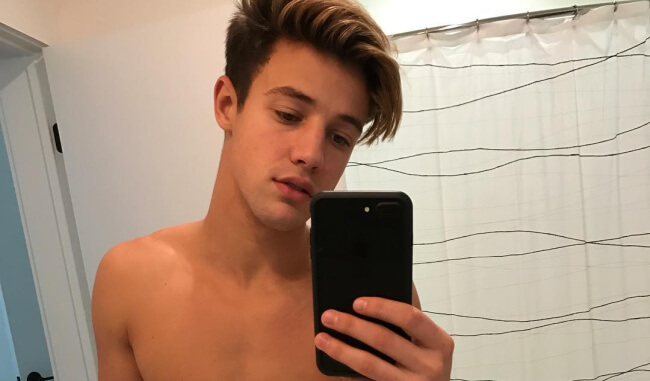 Update: Cameron's Instagram photos are back. But all of his past Tweets are still MIA.
To give you some background, Cameron Dallas has more than 21 MILLION followers on Instagram, and 16.3 million followers on Twitter.
He used to use Twitter as a place to interact with his fans, and Instagram was where we kept getting photos of his often-shirtless sexy body. Well, no more! At least… for now.
In the past hour, Cameron has deleted ALL of his posts on Instagram and Twitter. According to some fans, he said there's "a new era coming" – which, for social media stars, often means deleting all their past posts and starting fresh with a new "image".
But while we wait, Cameron's fans are freaking out.
@camerondallas are u okay?

— dallas (@magconputas) September 19, 2018
@camerondallas pic.twitter.com/U9OncQwUv5

— who (@trustnovne) September 19, 2018
Because we want our Cameron photos…
@camerondallas what the fuck is wrong with you?

— sophie 💌 (@honestsoph) September 19, 2018
But don't worry – we can assume all will be revealed soon
Why cameron deleted his photo on Instagram???!!! Anybody knows bout this? If you guys know pls tell meeeeee #camerondallas oh goddd

— คนเฬวๆที่ไม่ได้เฬว 🙂 (@gtfoeiei) September 19, 2018
At least… we hope so
I'm always in the mood for having a heartfelt conversation with @camerondallas, but right now I just need to sit him down and ask him what the heck is going on lol. Because he's seriously not giving us answers pic.twitter.com/snIs0IpP2n

— LG. (@cloudnine_cam) September 19, 2018